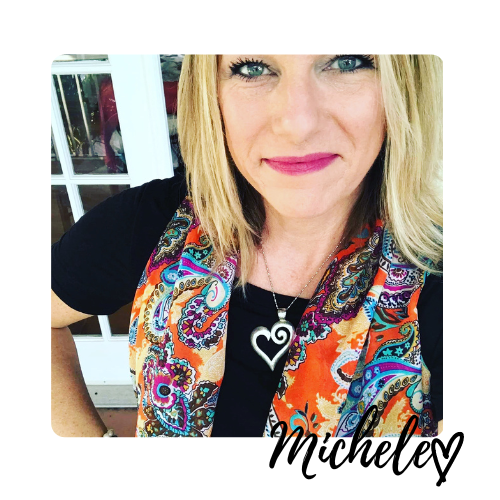 WellI guess I will do an About Me since you probably don't know me, and it's not your fault. Hi! I'm Michele, the Shy Introvert. You're gonna see a lot of hearts around my world and there's a story, but we will save that for another time! Here's the basic run down of who I am so you can quickly decide if you
wanna hang out!
I am all about Jesus, Coffee, Sisterhood, Chocolate and Grace, lots of Grace and a little bit of goofy!
After living MOST of my life anxious and insecure, it is with JOY I proclaim I don't anymore and
I don't want YOU to either!! We are FREE INDEED!!!
I asked the Lord to keep His promise to always be my Breath and never let go of me. He has been my
faithful Daily Bread and Living Water, my Peace in the Chaos, my Joy in Despair, My Rock in shifting sands

I didn't arrive here easily, though. It's been a journey of many miles.
(It didn't help that I am a little stubborn too.)
For years, I felt weak and helpless: physically, emotionally and spiritually. I was drowning in the deep waters of fearing what I could not see making me the Queen Of What If. I hustled daily to meet the assumed expectations of what I thought a Life of Faith was supposed to look like,
hustling
to prove myself enough and striving for what it meant to honor God and live a life of
meaning
. It was exhausting work smiling when I felt like crying. Those would be the secret tears caught in sacred moments with Christ alone.
The more I fought to be enough, the weaker I felt. The Word told me do not fear, do not be anxious, stand firm, have courage. I knew I should and I hoped I could, but I wasn't.
It took years and years for me to let go of the reigns and the need to control. Faith meant surrender, not
self-sabotage and it is my honor to empower you through sharing my journey and resources, my love and encouragement to help you walk through it a little easier, and maybe even avoid some of the same pits and detours I found myself taking.
Surrender is Trust. Trust is Faith. Faith is Surrender. Surrender is Grace.
Here I am Lord, Your Face I Seek.