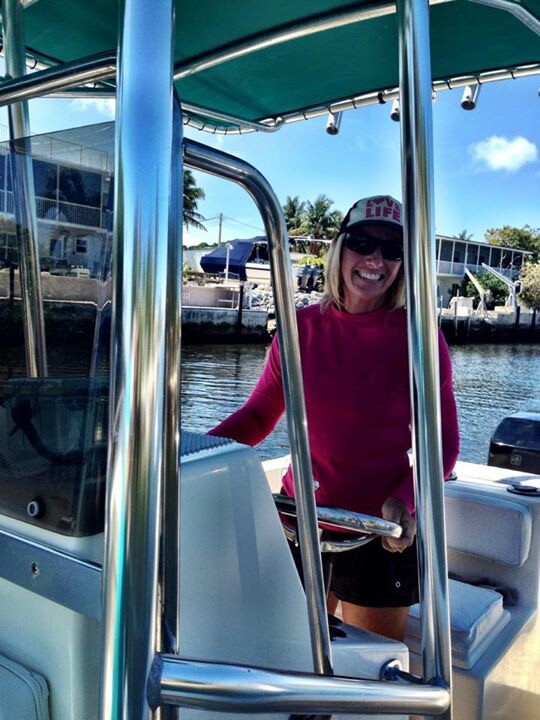 I love hosting friends and family who visit Florida for the first time. After moving from Texas to Florida in 2014, it's so fun to re-experience that awe of the waters and landscapes along with all the joys of island life. Recently, some of my dearest Texas girlfriends flew over for a Girls Retreat.
Each morning we enjoyed our gathering around the table drinking our morning lattes, eating breakfast and feasting in the Word. This was one of my most favorite parts to every day, starting out anchoring ourselves rightly in Coffee & Christ.
As we approached the sandbar, and a quick Boating 101, I handed the boat controls over to my friend, grabbed the anchor, and tossed it in knowing I'd have to reset to find the right ground.
As soon as I tossed the anchor, I hopped out of the boat, checked the ground, my instinct was right, it was a mushy spot. I grabbed the anchor and began looking for a solid spot to set the anchor so it could do its thing. It's such an amazing thing, to be 5'4", pulling a BOAT with 3 friends on deck, barefoot, in 12" of water! You kind feel like SuperWoman for a moment!
Curious, they asked Why I needed to move the anchor and How I knew what to do. I explained how the South Florida ocean's floor is firm in some areas and mushy in others so it was important to make sure the anchor locked into solid ground and was caught so the boat wouldn't float away as we tootled around the sandbar looking for shells and critters.
This was the millionth time I had ventured out to this Sandbar and I had learned the importance to SET YOUR ANCHOR! You can just imagine all the things that may happen if you either don't HAVE an anchor, or you don't know how to set it.
As we enjoyed the Sandbar, the anchor was a great illustaration as we talked about the steadfast and faithful love of our God, the anchor to our soul....
If we set our Anchor in mushy ground, the smallest of currents can slowly pull us away. We must set it on a firm foundation (Jesus) so when strong winds come, we won't drift places we hadn't planned on going. And, if we place our anchor in shifting sands (self), it sinks...boy oh boy do I know the extra grief and muscle it takes to pull that anchor out from sinking sands.
It's so easy in life to put our hope in things of this world only to find ourselves in places we didn't plan to be and in deeper waters than we meant to go.
There is no greater Anchor than the Lord our God. He is steady and steadfast. He will keep us where we need to be if we allow Him to ground us on a firm foundation, His Cornerstone. And this is key.: to have the trust in the firm foundation and set our Anchor with intention.
You may be asking HOW?
These things are accomplished through the relationship between you and the Lord.
Spend time knowing Him through worship, His Word, testimonies of others.

Spend time in prayer, asking Him to lead the way, then anchor yourself into the truths of Who He is.

Read about the Armor of God in

Ephesians 6

.

and how to prepare yourself in

Colossians 3:17-21

.
Storms will come and the currents will be swift. Set your Anchor in a firm foundation so you are no longer tossed to and fro! Your Anchored soul will boost your confidence! Watch your courage grow, dispersing the waters around you as you stand firm in your faith!
Lessons learned:
Having an Anchor is crucial to keep you where you need to be.

The bigger your anchor, the greater the hold.

Know the ground beneath you and be intentional to set your anchor in Solid Ground.




Know your foundation. Thank God for grace when it's the first time in a new place and you don't get it right, with a Helper, you can get unstuck and try again, and again, and again.

We need Anchoring friends to help us drive the boat.

Avoid shifting sands. Always seek solid ground. The enemy comes to tempt and divide you from the truth.

God is endless grace, steadfast, gracious, mighty to save, a firm foundation.


God is The Anchor to our soul, amen.
The next time you feel yourself drifting from your confidence, your faith, your joy, your hope...check your Anchor!
"
"We have this as a sure and steadfast anchor of the soul, a hope that enters into the inner place behind the curtain, where Jesus has gone as a forerunner on our behalf,"
Hebrews 6:20
---
If today's encouragement hugged your
HEART
today, let me know in the comments or drop a
Hello
in the
socials
!! Feel free to share with a friend who needs a heart hug too!
This is how YOU get to hug my
HEART
back!
implemented since 2009 to help me live a life of greater Peace and Joy..
Heart Hugs and Blessings,