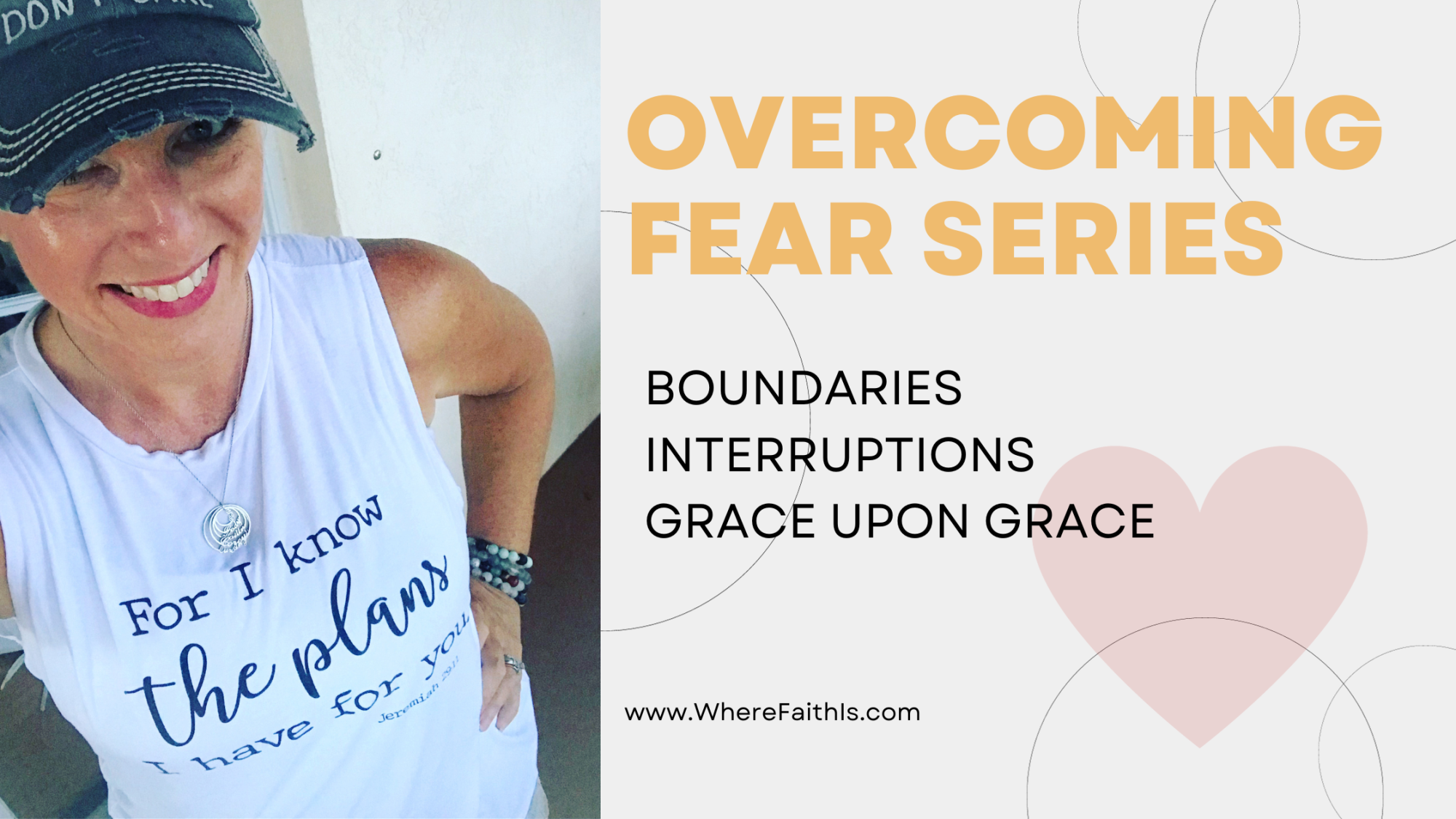 We are talking about Overcoming Fear this month. Fear was my guide nearly all my life and until I broke free from it, I didn't realize how bound up I was until it broke loose.
Today let's continue the conversation of fear and talk about Permission, Grace, Discernment and Surrender and the roles Sisters, Boundaries and Intimate Worship play. I know….this could literally turn in to a few books, but today, we will skim just the tip of the surface!
Discerning the Thoughts and Feelings wrapped up in Fear:
Let's talk about Permission to Pause. For some of us, we have a hard time moving forward because we don't feel like we have permission to do so, be it feeling inadequacy, lack of invitation, or sometimes just simply not having the time or energy to do the thing.
Life is unpredictable and things happen whether you are a Professional working outside the home or the Pro in your home. Life Happens and our ability to adapt to it is one thing but our response to it is everything! The less flexible we are and the more jam packed our calendars, the greater our angst will be when things happen we didn't plan for.
For me, this is why creating space in my day became so super important. It's not about creating the space to push AWAY something, rather the space to ALLOW something in.
I call this Space for Grace.
But first I needed to give myself PERMISSION to pause. Permission to follow what I learned to reframe as Divinely led appointments or Divine opportunities. To exercise my Peace muscle instead of perfectionism To know that real courage is the ability to push through fear, even when fear is a simple rest
It doesn't sound like such a big deal to the average person but to those of us who struggle with fear of rejection and fear of failure, we are constantly focused on what we need to do to check all the boxes for the day to feel any type of accomplishment and therefore find our value and worthiness of a job well done.
As a Stay at Home Mom, I don't have a paycheck or bonus program to show proof of work. I don't have Reviews with a Boss telling me I am doing a great job in my career. In fact, when things don't get done, not only do I feel like I failed,
I hear things like, "Why is the house such a mess? Why are the dishes still in the sink? Why is the laundry pile still on the couch to fold? Why not...you've been home all day?!? Why didn't you run to the store today? You forgot to sign my online permission slip. The car really needs gas. The pool looks dirty with all those leaves in it." On and on….a job never done, especially noticeable when Mama takes time "off."
So you have to ask yourself, is it worth it to slow down and step into those slower spaces and follow the "interruption" or just push through and stay focused on the things we placed on a calendar as highest priorities no matter what! For me, slowing down and creating a better flow took a lot of self control but once I found how much better my day went, how much more efficiently my home and my heat ran, filling my days with joy and laughter vs stress and overwhelm, I never went back to the crazy cycle of living life under the microscope of judgement. Nothing but Grace,
forever more!
Then you must ask yourself, What actually are my priorities the first place? Is it the house or the people in the house? Is it the work or the people in the work? Is it serving in the church or community or the people within?
We get so easily caught up in the things, we loose sight of our Audience of One.
My heart's desire was/is to love the Lord with all my heart, mind and soul and
this
became really hard when my adrenals, my mind and my body began to crash. When I re-evaluated my priorities and asked God to show me what HE had planned for me each day, my heart and mind relaxed into Grace. Creating Space for Grace was what I needed to do so I could have a schedule of peace.
To move about my day seeking the things above for my life here below.
First steps would be to sit down with the Lord and ask Him what HE has planned for you each day and in this season. Ask Him to make it clear to you where your time and energy is needed to then accomplish those things.
Next, sit down with the family and let them know what changes will be implemented so everyone is on the same page and don't forget to share the why! The WHY is so important to teach them this principle so our hearts are aligned. Here we are, just now learning (finally implementing) these disciplines as adults. How blessed our kids to learn something so valuable at a younger age!
I will come back and put the link here
when
it's done, but I'll share a list of things I began to implement here to help you get started thinking about things you can do. The main thing is honoring your body, mind and soul through rest and care. It's not just Self Care Sunday...it's a Sabbath's rest, a soulful rest. These are our boundaries. This is our surrender. This is our worship.
U
ltimately, you know what you wish could be done, you just need to take the time to plan it out without fear of judgement! We are choosing to live our life seeking first, God, our Audience of One, to love Him above all others.
You've Got This! Pray & Plan it out Sista! You've got permisson and all the grace!!!.
We don't think about running our home like a ministry, but it most certainly is! It's our soil to nurture, our true Homestead's planting ground, our first mission field! A field of much grace!!! There are people, projects and spaces that need our planned for care.
Let's talk about our 3 helps:
Circle your fears with Sisterhood.
Share your overwhelm with your Sisters when you face an "interruption" and let them pray for you and over you should that be desired or necessary. Knowing I had Sisters circling around me meant a lot even though it very only 1 or 2 of them. What a beautiful relationship where 2 or more are gathered in His Name to lift each other up to bring Him Glory in the midst of interruptions.
These were the ones who helped me up off the ground when I crashed. These were the ones who showed me how to serve my family, my God, others
through
caring for my self even in the dessert, the fire and pit. These were His Lights in the darkness.
Circle your fears with Boundaries.
Identify your non-negotiables and be realistic with them. Create a calendar of things you need to get done and things that can be penciled in and even removed. I love the sticky note To Dos....they can be done as able.
Establish clear guidelines on when and how interruptions can be addressed. Have you established a back up plan? Do you have honest conversations with those involved where you can freely say Yes, or No. Saying No is such a powerful word and declaration, knowing God has prepared this and it's not yours to hold.
Prayer is always the first response and discern whether it's something He has planned for you to do, or not do, yet.
Then, let your Yes be Yes and your No be No. Watch out for the foxes and squirrels to pull you out of God's Grace Garden. We no longer serve others above God. Our Audience and Boss is The One and He is who we are meeting with over laundry or loving others. His will be done on earth as it is in Heaven!
Prayerful Discernment and Surrender, for He is a Shield about us and The Provision for the calling and
the setter of our Appointments
.
Circle your fears with Intimate Worship.
Sometimes the interruption or Divine appointments are so much fun, like a friend with a last minute lunch invite or a fun playdate at the park. Other times they can take our breath away in grief, anger, frustration. In these Divine moments, Peace more quickly flows when we have already set our heart in a posture of
trusting
surrender.
As we follow His leading, He walks us through rocky roads, around steep mountains, uncharted terrains, long wilderness trails and we are still held. Will you choose to surrender your knowing what's next, knowing your value, to The All Knowing?! He's says you're enough. He says
you're
never alone and HE has plans to prosper and lead you through open doors no man can touch.
Grace upon Grace knowing He is all knowing, all seeing, all providing and in Him we walk out of callings. Our homes, our work places, our church, our community, our friends are all Holy Ground because He is there in the midst, Will you invite Him in to your schedule?!
Let the Light in all the places of your world. He holds it all in the Palm of His Hands.
And so we continue to seek and pray, Less of me, God, More of You.
Sister, your heart, mind and soul are safe in His arms. You don't need to worry about earning, being or doing, to earn God Points. You are precious in His sight. Your debt has already been paid! He's got you and you can have perfect peace.
Here's a little Guide if you
want some more practical tips I have implemented in my life since 2009.
---
If today's encouragement hugged your
HEART
today, let me know in the comments or drop a
Hello
in the
socials
!! Feel free to share with a friend who needs a heart hug too!
This is how YOU get to hug my
HEART
back!
implemented since 2009 to help me live a life of greater Peace and Joy..
Heart Hugs and Blessings,